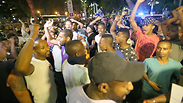 Protesters in Tel Aviv
Photo: Yaron Brener
Some Israeli Ethiopian protesters broke away from the main crowd at a protest Monday evening in Tel Aviv and charged at Rabin Square, blocking roads in the area.

After their last Tel Aviv protest against racism and police brutality ended in violent clashes, police deployed hundreds of officers with crowd dispersal means to the scene, and protest organizers made efforts to keep the peace at Monday's protest, which started at around 3 pm on Rothschild Boulevard.

Around 9:30 pm, the main body of protesters split to two groups, with one group of some 300 leaving the crowd outside the Beit Ariela Library and making their way down Ibn Gabirol Street towards Rabin Square. Police forces were trying to stop the protesters from blocking further roads.

For hours, demonstrators marched down Rothschild towards HaBima and then headed towards Rabin Square without any major incident. The demonstration started small with only around 150 protesters showing up, but slowly grew to up to 1,000 protesters.




One of the participants called out using a megaphone, "The Temple was destroyed because of unjustified hatred. We have to love one another."

Talking about police brutality, the protester said, "Not everyone are racist and violent, but some use their force without restraint and we must put an end to that. No more oppression, no more violent and no more discrimination. This isn't what we expected to have after our families walked through the desert."

Police Chief Yohanon Danino addressed the impending protest in a speech Monday morning at a conference of the Israel Bar Association in Eilat saying, "We have fruitful and production conversations that are meant to bring us together and strengthen us."

Danino said that a project is currently underway to meet with some of the protesters in order to move forward with the closure of criminal cases. "7,400 young men and women are in the middle of this project, 1,000 of whom are members of the Ethiopian community," said Danino. "This is a policy that we must continue."



Danino also addressed the previous protest in Tel Aviv, saying, "They have complaints, some of which are justified." Danino continued to say that the only protest in which there was no violence was the one for which protesters were granted a proper permit. "The last two got completely out of control and we were had to use force in order to maintain law and order."

In contradiction to Danino, protest organizer Yayo Avraham said, "The violence the last time was most from the side of the police. We hope that today they'll let us march for dozens of years of discrimination. We aren't going to let them distract us with talk."

Avi Ya'alon, another organizer of the movement added that, "Our goal is to show that we're here and our movement will continue and isn't going anywhere. We aren't waiting for committees and statements; we've had enough of them, we'll be satisfied when we see results in reality."

John-Michael Kibrick, Omri Efraim, Aviel Magnezi, Itay Blumenthal contributed to this report.