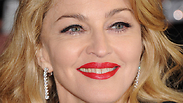 Madonna
Photo: gettyimages
Madonna has stirred up controversy after posting a photo of a Palestinian man and a Hasidic Jewish man apparently mid-kiss on Instagram.

The photo, which was posted on Sunday, has already garnered upwards of 70,000 likes in just over 24 hours. It features a Jewish man with side curls wearing a large white knitted skullcap typical of the Breslover Hasidic movement, in addition to an Arab man wearing a keffiyeh. The two appear to be leaning in for a kiss.

"This image is . ❤#rebelhearts," the caption of the photo reads, referring to Madonna's latest pop album.

"I see two men one Muslim perhaps and one Jewish together sharing a moment of peace. Can't we just all get along without discussing religious beliefs?" one of the Instagram comments under the photo reads.

Another wrote: "I don't understand all the ppl here say it's not possible I'm Jewish from Israel my boyfriend is Arab Muslim and we live together for 3 years now!"

Many others responded quite negatively to the image, with some posting racist slurs both against Jews and Arabs.