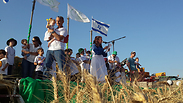 Shavuot celebrations at Kibbutz Ruhama
Photo: Roee Idan
At least 100,000 Israelis visited national parks and nature reserves across the country on Saturday as part of a long Shavuot holiday weekend.

According to Israel's Nature and Parks Authority, visitors sought to escape hot weather at rivers and streams. Among the most popular nature reserves were: Nahal Snir, Hermon Stream (Banias), Nahal Ayun, Tel Dan, and Majrase, as well as some of the authority's beaches in Palmachim, Beit Yanai and Caesarea.

Some 6,500 visitors are expected to stay the night at the Nature and Parks Authority's campgrounds. The campground at Palmachim had to be closed due to overcrowding.

The long holiday weekend also sent many to the Kinneret's shores. Some 50,000 visitors were reported at the lake in the morning hours of Saturday, nearly half of which were at Kinneret Municipal Association beaches, mostly on the eastern side of the lake.

Many visitors attended Shavuot celebrations in nearly 200 kibbutizim across the country, which are expected to continue on Sunday as well. Some 400,000 people are expected to attend the Bikkurim (first fruit) ceremonies in kibbutzim.

The Ceremony of Bikkurim has seen a rise in popularity in recent years, with kibbutzim placing an emphasis on Shavuot's links to working the land.

At the Jezreel Valley (Emek Yezreel), the Ceremony of Bikkurim is done in conjunction with the annual Milk and Honey Festival. The main Ceremony of Bikkurim in the valley was scheduled to take place at 5 pm Sunday at Kfar Yehoshua.

The rising temperatures and strong winds caused a bushfire near the Glilot car sales complex. Five firefighting teams were called to the scene.

"This is a fire in an open area that is hard to get to. There is a lot of smoke," Tel Aviv Fire Chief Doron Netanel said. "The fire is currently under control, but it will continue burning into the evening hours."

Gilad Morag, Ahiya Raved, Shahar Hay and Becky Ezran contributed to this report.