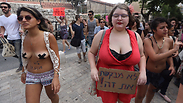 SlutWalk in Jerusalem
Photo: Gil Yohanan
Some 400 people embarked on a SlutWalk on Friday afternoon in Jerusalem, protesting sexual violence, sexual harassment and the objectification of women.

The walkers, mostly women, were carrying signs that said "The rapist doesn't care what I wear, so why do you?" and "Eshet Hayil (woman of valor) wears whatever she wants."

The walkers called out "'No' means 'no' means 'no,' what part of 'no' do you not understand?"

Several of the walkers were minimally dressed in protest of victim shaming, particularly against those who draw a link between revealing clothing and sexual harassment of women by men.

The walk began at the Davidka Square and ended at Jerusalem's pedestrian mall.

Tamar, a Jerusalem resident in her 20s, said she was taking part in the walk to protest against sexual violence. "It doesn't matter what I'm wearing, my body is not public property. I'm not a sex object, I can dress however I feel like and it doesn't give anyone the right to touch me, make offensive comments about me or talk to me disrespectfully," she said.

Tamar said she experienced verbal sexual harassment in the past. "There is a lot of harassment on the street, a lot of terror. I have been harassed by men on the street since the age of 14. It happened in other cities in the country and actually anywhere in the world," she said.

She explained that the reason for that was "the culture of rape, pornography and prostitution. Men think that if there is a woman that can be bought with money, then there is nothing separating between them and her and they are allowed to do anything. You are being viewed as a product."

Another participant in the walk said all of the women she knows have experienced some kind of sexual violence. "Even me, even the women in my family and even my friends, we've all experienced sexual harassment that affected our self-image and our freedom to walk on the street. It happens on the street and in the workplace because there are many men who let themselves treat women as a sex object to validate their own self-worth, their own sexual needs and their own honor. We are here to say that this must stop."

She went on to say, "Our honor is equal to that of men, we ought to be looked at and treated accordingly."

Gil Ziv, a Jerusalemite who also participated in the walk, said, "I came here to say men are also protesting against sexual violence of any kind. You don't need to be a woman to know women's voice throughout history has been silenced and for thousands of years they were an oppressed public. Even now, around me, I see harassment and sexual violence despite the long strides we have made since the Middle Ages."