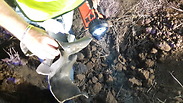 Remains of rocket in Sdot Negev
Photo: Roi Idan
Israel Air Force jets struck three targets in the Gaza Strip in the early hours of Thursday, following rocket strikes on southern Israel late Wednesday night.
The IDF said it hit targets affiliated to Hamas, which has ruled the Gaza Strip singlehandedly since seizing power in 2007.
"The IDF views the incident gravely," said the military in a statement. "The Hamas terrorist organization is the address and the one on whom the responsibility falls."
Defense Minister Moshe Ya'alon echoed this message Thursday morning. "Even if last night's shooting at Israel was by errant global jihadist groups who wish to challenge Hamas by firing at us, we consider Hamas responsible for what happens in the Gaza Strip and we will not tolerate attempts to harm our citizens," he said.
Sdot Negev on Wednesday night (video in Hebrew) (צילום: רועי עידן)
"We will not compromise on the security of Israeli citizens and we will not tolerate a return to the reality of a drizzle of rocket fire."
A radical Islamist Salafist group posted a statement on Twitter claiming responsibility for firing the rockets. Calling itself the Omar Brigades, the group said it was retaliating for Hamas' killing of an Islamic State supporter in a Gaza shootout on Tuesday.
"We are continuing with our jihad against the Jews, the enemies of God, and no one will be able to deter us," the statement said.
At least two rockets were fired from the Gaza Strip at southern Israel on Wednesday at around 11 pm local time. One fell in an open area in the Sdot Negev Regional Council and the other in an open area in the Hof Ashkelon region. No one was hurt from the rocket fire, and there was no damage caused.
The rockets were fired from Al-Shati in the northern Gaza Strip and from the area where the Jewish settlement of Netzarim used to be, near Gaza City.
In last week's rocket fire, Gaza militants launched their deepest strike at Israel since the fighting between Israel and Hamas last summer, hitting near the port city of Ashdod.
Israel blamed Islamic Jihad militants for that rocket assault, and launched retaliatory air strikes then too.