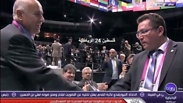 Rajoub's handshake with Eini.
Up until last Friday morning, Jibril Rajoub was still viewed as a symbol of the Palestinians' struggle against Israel. Rajoub, the chairman of the Palestinian Football Association, arrived then at the FIFA congress in Switzerland with the objective of getting Israel booted out of all international soccer tournaments and competitions, and only a last-minute and behind-the-scenes deal prevented a vote on the matter. Today, Rajoub finds himself under attack from all sides.

Rajoub's troubles began immediately after the compromise with Israel, on Friday, with Palestinian leaders in Gaza accusing him of capitulation and slamming his decision to shake the hand of Israeli Football Association chief Ofer Eini.

Rajoub is also coming under fire for not casting a ballot for Jordan's Prince Ali in the vote that did take place at the FIFA congress last Friday – for the position of president of world soccer's governing body.

Following the vote, Rajoub said he had voted for the Jordanian candidate; on Tuesday, however, the truth came to light – the Palestinian soccer boss was caught on camera celebrating Sepp Blatter's win in the race.

Rajoub's vehement denials to newspaper editors in Amman were of no help. "As usual, Rajoub is telling bold-faced lies," one newspaper wrote, while the Al-Masdar website published a series of disparaging cartoons starring the Palestinian soccer chief.

As a result, Palestinian Authority President Mahmoud Abbas was forced to pay a visit to Prince Ali's home in Amman to "apologize for the mishap." He has also threatened to oust Rajoub from his post if he insists on defending his decision in public. Rajoub, for his part, has accused Israel and senior Fatah officials – his sworn rival, Mohammed Dahlan, in particular – of "making trouble and spreading lies."

Not only is Rajoub now persona non grata in Jordan, but he is also in trouble with Dubai, whose Princess Haya is the sister of Jordanian Prince Ali. The princess was the one who managed Ali's campaign in the race the FIFA presidency. Rajoub, it appears, is no longer welcome in Dubai either.

So for now, Rajoub is stuck in Ramallah, unable to the leave the Palestinian Authority via Israel's Ben-Gurion International Airport or via the airport in the Jordanian capital.