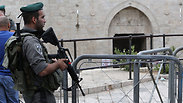 Border Police near Damascus Gate, where one of their fellow soldiers was attacked.
Photo: Gil Yohanan
The stabbing attack at the Damascus Gate on Sunday morning has the makings of another one of those "lone wolf attacks" - an incident that is seemingly unpredictable and for which Israeli security forces cannot be prepared on the intelligence and operational fronts. An incident that appears to derive of a sudden urgent. But it is in fact not the case.

Even these sporadic attacks are taking place on a similar backdrop and for reasons that are more or less always the same. In this case, as in the murder of student Danny Gonen on Friday, there are three reasons motivating the Palestinian attackers.

The main reason is the religious fervor among the Muslims on the holy month of Ramadan. It is not just a matter of the sermons they hear, or of their religious inclinations, but also the lengthy fast, the extreme changes to daily lives and maintaining their day-to-day routine while not sleeping at night - all of these create a situation in which the Muslim street all over the world, including in the Palestinian Authority, sensitivity and anger run high. This psychological analysis is important because it explains a significant amount of attacks that seemingly reveal no rational reason for the murderer to choose to risk his life and his surroundings.

The second reason is that an act of murder like the one on Friday near the Dolev settlement instantly brings about copycat attempts, mostly among those who were already feeling anger or religious fervor, or wanted to prove something to those around them.

The third reason is inspiration drawn from Islamist terror organizations, particularly Hamas and Islamic Jihad. Most of the attackers are linked in one way or another to one of the external circles affected by Hamas media and sermons from radical imams. Even though the attack was not directly sanctioned by one of the Islamist groups preaching for such actions, the guidance or inspiration came from them. In this manner, one could say that Hamas, which claimed responsibility for the shooting attack that killed Danny Gonen on Friday, prepared the ground for Sunday's stabbing attack.
The target: Israeli security forces
There is also a fourth reason worth mentioning - the wave of Islamist zeal currently spreading over the entire Middle East, which also serves as inspiration for such attacks. The lion's share of recent attacks targeted Israeli security forces personnel and this happens for two reasons: Primarily, it is easy to identity Israeli security forces in a crowd, and there is no need to follow them or wait for a particular moment to strike.

Secondly, terror organizations are making great efforts, at least at present, to only target security forces, and Hamas is very particular about that. It would be no surprise if during the investigation, the Shin Bet discovers the stabber at the Damascus Gate was a zealot Muslim with some ties to Hamas or its terror infrastructure.

The Palestinian Authority, meanwhile, has recently been working to calm tensions and focus on a "diplomatic intifada" instead, and terror attacks do little to aid its effort.

There is also no sign on the Palestinian street or in social media that a new Palestinian uprising is in the works, but the unrest in the West Bank continues and rises and falls in waves. The current wave is the "Ramadan wave," which Israel tried to ameliorate by increasing Palestinians' freedom of movement and removing some of the restrictions imposed on them, but it turns out these moves do not impress the lone wolf terrorists.

Police is already taking whatever measures it can, primarily flooding the targeted areas (mostly in East Jerusalem) with thousands of policemen whose very presence deters and prevents attacks. Unfortunately, not all of these police officers are patrolling the streets with bullet-proof vests and vigilance, and so on occasion a Border Police officer or a soldier falls prey to a lone terrorist.