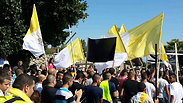 Demonstrators at the church
Photo: Ahiya Raved
Thousands of Christians from the Galilee and around Israel gathered at the Church of the Loaves and Fishes in Tabgha on Sunday afternoon to protest the apparent arson that heavily damaged the house of worship days earlier.

The demonstration began at around 4 PM and drew an estimated crowd of more than 3,000, many holding the flag of the Vatican and crosses. At one point, around 100 youths blocked an adjacent road.

Abbot Gregory Collins, head of the Order of Saint Benedict in Israel, urged the Christian community to respond to the incident according to their faith.

"A few nights ago we suffered a severe attack here," he said. "A fire that endangered human lives. All residents of the area – Christians, Druze, Muslims, and Jews should protest against this deed. But we are Christian and must react like Christians.

"We are in the place where Christ performed his miracles, and we the monks have hosted invalids here for years. We will replace the terrible fire with the fire of God's love and forgiveness."

Protestors called on police and the government to do all in their power to find the perpetrators and bring them to justice. The fire is only the latest in a series of acts of vandalism at Christian sites in the past few years.

A mass prayer followed, with the participation of dozens of local priests.

Firefighters stopped the blaze mere meters away from the nave, whose roof is wooden. Swallows that had been nesting in the wood beams had fallen on the floor, dead. Graffiti denouncing the worship of idols was found on a limestone wall in red spray paint.

The area is host to a number of churches, and Christians believe Jesus performed some of his miracles there before going to Jerusalem.