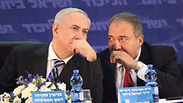 Lieberman is set to support Netanyahu in the Knesset vote.
Photo: Moti Kimchi
The government voted Sunday to pass responsibility from Economy Minister Ariyah Deri to themselves for signing a deal to break up the duopoly that controls Israel's natural gas fields after Deri refused to sign the deal last week.

Details of the agreement have yet to be made public, but industry sources have said Noble and Delek will be allowed to keep control of Leviathan, the world's largest offshore gas discovery of the past decade.

The government's decision makes use of Article 52 of the Antitrust Law, allowing them to circumvent the antitrust regulator and approve the agreement with the gas companies.

The only member of the government to oppose the deal has been Minister of Environmental Protection Avi Gabay.

"The state must listen and understand the companies' claims and demands and then utilize its authority and sovereignty on this matter in order to arrive at the plan that is best for the citizens of Israel," said Gabay.

Regarding the strategic plan presented to the ministers, Minister Gabay said it was "an important move, but only clear, numerical indicators and targets can make it effective."

"The deal we've formulated breaks the monopoly and will bring hundreds of millions of shekels in the next decade to education, culture, health and many more things for the benefit of all Israeli citizens," said Prime Minister Benjamin Netanyahu.

The move to pass responsibility for the deal to the government is due to come before a Knesset vote on Monday afternoon and Netanyahu's majority in the Knesset, already on thin ice, may fall into cold water in the vote tomorrow due to the withdrawal of three ministers from the vote, all of whom cited a conflict of interest.

Yesh Atid Chairman Yair Lapid already announced his party's opposition to the deal, and if all opposition parties decide to unite in a 'no' vote, Netanyahu could be defeated in a Knesset vote for the first time since his recently elected government took office.

Only Environment Minister Avi Gabai voiced opposition in the government vote on Sunday.