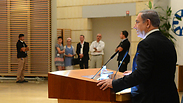 Prime Minister Benjamin Netanyahu addressed the on-going security situation in the Sinai Peninsula Wednesday afternoon, expressing solidarity with the Egyptian regime and warning that, "ISIS is not just on the Golan, they are in Egypt as well, near Rafah, near our border."
Netanyahu, continued on to say, "We are partners with the Egyptians, and many other states in the Middle East and the world, in our battle against radical Islamic terrorism. This terrorism is directed by two different entities- Iran, and the radical Shiites, and ISIS and the radical Sunnis, as well as factions like Hamas."
In a meeting with Ambassadors at the foreign ministry Prime Minister Benjamin Netanyahu offered his sympathies for those lost in attacks Wednesday. "We send our condolences to the Egyptian Government, the Egyptian people, and the families of those massacred by this gruesome terror," he said.
Egyptian security and military officials said on Wednesday that Islamic militants staged simultaneous attacks, including a suicide car bombing, on army checkpoints in northern Sinai, killing at least 100 soldiers and civilians.
In light of the attacks against security forces in the Sinai, Hamas decided to reinforce military operators in Rafah, a city split on the border between Egypt and Gaza. Hamas' Ministry of the Interior said the move was meant to maintain security and stability along the border.
Residents in the Gaza side of Rafah reported they could see and hear the signs of on-going battles just across the border.