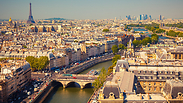 Paris, France
Photo: Shutterstock
Paris will get a European center for Judaism in 2017, the European Jewish Press reports.

The construction of the €10 million ($11 million) institution in the French capital's 17th district, was announced last week by the French capital's mayor, Anne Hidalgo, and Joel Mergui, president of the Jewish Consistoire, which provides French Jews with religious services.

Welcome Home!

Some 400 French Jews arrive at Ben-Gurion Airport this week; more than 3,000 expected to arrive throughout the summer. Additionally, 80 French Jews on tourist visas become Israeli citizens.

According to plans, the institution will serve both as an academic center and cultural institution and will include a synagogue, conference halls, exposition space and offices.

More than a quarter of the estimated cost will be paid in subsidies by the government. EJP reports that Paris has leased the land for the center, which will be one of the largest centers opened in Western Europe in recent years.

According to EJP, Mergui told French media that the center would operate from "a large building situated in an area of Paris where a large Jewish community has developed.

He added, "I wouldn't want us to leave for the summer vacation and close this especially tragic year for France and for the Jewish community without being able to provide a note of hope."

Some 20,000 Jews have left France for Israel since 2012 due to the rise in anti-Semitic incidents in the country. More than 3,000 are expected to arrive in the Jewish state this summer.

"It would have been easy to give up on this project and say that Jews are leaving. I want to convey a different message to France and its Jews: We determine our own future," the president of the Jewish Consistoire concluded.