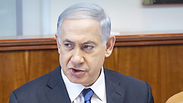 Prime Minister Netanyahu
Photo: Emil Salman
Israel's next budget will only run through the end of 2016, dealing a blow to Prime Minister Benjamin Netanyahu, who wanted a spending plan lasting through 2017 that he hoped would give him more political stability.

Netanyahu had postponed a budget debate by a month to persuade Finance Minister Moshe Kahlon and other political partners to accept a budget that extends through 2017, even though previous coalition agreements capped it at next year.

But he could not muster any support, with critics saying the plan did not provide enough financial flexibility, since a lot can change in two-plus years. With only a one-seat majority in parliament, pushing the issue was too risky for Netanyahu.

Budget debates have repeatedly brought down governments, most recently last year when Netanyahu was forced to call a snap election after he failed to pass the 2015 fiscal plan.

It was the second blow in a week for Netanyahu. Last Monday he failed to secure a majority in the Knesset for a vote on the development of Israel's natural gas fields.

"Netanyahu tried to convince Kahlon to make it a three-year budget," that is, part of 2015, 2016 and 2017, a Kahlon spokesman told Reuters. But the finance minister and other officials presented data over the weekend that convinced Netanyahu to let the issue go, he said.

The Prime Minister's office declined to comment.

Because of elections held in March, Israel has operated on the basis of the 2014 budget this year. On Monday, the Knesset's Finance Committee agreed a new budget must be delivered to lawmakers by the end of August and approved by November 19.

The 2015-2016 budget will be based on Finance Ministry estimates of 3.3 percent economic growth in 2016. The deficit target is likely to be about 2.9 percent of gross domestic product, although a ministry spokeswoman said the figure was not set in stone. The deficit was 2.8 percent of GDP in 2014.

The International Monetary Fund last month urged Israel to cut its deficit to 2.25 percent of GDP in 2016, saying after a week-long visit "the fiscal deficit remains stubbornly high."

Similarly, the Bank of Israel encouraged the government to adopt a deficit of no more than 2.5 percent of GDP so the country's debt burden would further decline.

Kahlon's spokesman said a number of reforms would be part of the new budget. They include a housing reform to lower prices, splitting credit card companies from banks, allowing private companies to give consumer loans, encouraging competition in cable TV and permitting parallel imports.