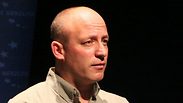 Lior Lotan
Photo: Ofer Amram
Prime Minister Benjamin Netanyahu has postponed a meeting scheduled for Friday with the family of missing Israeli Avraham Mangisto, after a recording was released in which a government envoy warned the relatives to refrain from public criticism.
Lior Lotan, the prime minister's envoy on hostages and missing persons, apologized Thursday for the tape, in which he was heard saying that publicly making a connection between Mangisto's Ethiopian ancestry and the government's handling of the case would "keep him in Gaza for another year."
"The good relationship we created during the past months will continue and we will work together until Avra returns home," said Lotan. "I will continue to work voluntarily to return our captured and missing soldiers and civilians."
"It's good that Lior spoke with the family members and apologized to them," said the prime minister. "Lior works day and night voluntarily to return our missing soldiers and civilians."
Shlomit Lotan, Lior's wife, posted on Facebook Friday morning an extensive defense of her husband and an attack on the media. "True, they broadcast one of many meetings that he held with the family, which was in this case very charged, and during which people got worked up unnecessarily, but it was not racism, and there were no threats. They broadcasted one minute of obstinacy, for which he apologized to the family.
"They caught him in a moment when he lost his temper, and they presented it as if it were the whole picture. We know the truth and the full story. And Avra's family also knows the truth," she continued.
"You created a role that was available only for the families of kidnapped soldiers, by demanding that the system, contrary to what is generally customary and accepted, give Mangisto's family the same treatment and give them all the assistance they needed. On top of all that, we also love you, continue to support you and hope that the media, which once again carried out a lynch without hesitation, will take responsibility, at least present the correct facts in the proper context and avoid doing injustice to a man whose entire life was and will be devoted to the state."
Mrs. Lotan continued defending her husbanb saying that "Channel 10 presented him yesterday in a difficult moment, which he knew was unnecessary and irrelevant, he immediately called Yalu, Avra's brother, with whom he was in close contact throughout the year and he apologized to him. Contrary to what was presented, it was not the first time that Lior met with the family, it was the seventh or eighth time he met with them during the last year.
"When he lost his patience that was because there were people who are not family members. They asked him to explain everything from the beginning and therefore it sounds like he was updating them for the first time, but this is obviously not true."
On Thursday Channel 10 aired a recording of the dramatic conversation between Lotan and the family. Lotan also warned the family against documenting the meeting saying, "This is unacceptable. Meetings with me don't get documented."
Mangisto's brother can be heard in the recording trying to interject, but Lotan stopped him, saying, "Don't get into these things with me please, I'm an older man than you. Decide what you want -- to work together or make a scene and manipulate us."
Avraham Mangisto, 29 years old from Ashkelon, went in the early hours of September 8, 2014, and was seen crossing the border into Gaza out of his own volition.