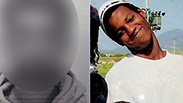 Abera Mengistu and an Israeli Arab also being held in Gaza
Prime Minister Benjamin Netanyahu emerged from a half-hour meeting Friday afternoon with the Mengistu family, saying that "Israel will do everything" to return their son, Abera Mengistu, home.

Netanyahu added that, "We are dealing with a cruel organization and we will not sit back. We are in contact with the Mengistu family and the family of the other Israeli."

Netanyahu's insistence that Israel would take action to return the Israelis came after a 10-month-long gag order was lifted on the case and Israeli security officials said that a prisoner swap was not on the table for discussion. The case has provoked claims of racism on the part of the government for keeping Mengistu, an Ethiopian, and his case secret for so long.

Mengistu reportedly has mental health issues and it is not clear if he intentionally entered Gaza or did so by mistake as his family claims. The other Israeli mentioned by Netanyahu is an unidentified Arab citizen with a similar history of mental illness who also apparently entered Gaza of his own free will several months ago.

The family said that Netanyahu shared all of the information currently known regarding Abera and his whereabouts.

Lior Lotan, the prime minister's envoy on hostages and missing persons, also visted the family on Friday afternoon and apologized for threatening them not to publically criticize the government in its handling of the case.

"The things that were said don't reflect the way I work, my values or my way of thinking. I feel a deep need to apologize to the family."

The representative also said that his threats, which were first revealed in a recording aired on Channel 10, did not reflect the opinions of Netanyahu. "I want to promise the family today that I will continue acting all the time, in every way with the family and the entire State system in order to complete the mission and quickly return Abera to his home and family in good health."

The Mengistu family told Netanyahu during his visit Friday that they were sorry the recording of their meeting with Lotan had been released to the press.

Lotan quickly found himself in hot water on Thursday when it was revealed that he warned the Mengistu family against publicly making a connection between Mengistu's Ethiopian ancestry and the government's handling of the case, telling them that such actions would keep their son "in Gaza for another year." The meeting was held just before a 10-month-old gag order was lifted on the case of their missing son.

Lotan already apologized on Thursday night for his remarks to the family saying, "The good relationship we created during the past months will continue and we will work together until Abera returns home. I will continue to work voluntarily to return our captured and missing soldiers and civilians."

"It's good that Lior spoke with the family members and apologized to them," said Netanyahu on Thursday. "Lior works day and night voluntarily to return our missing soldiers and civilians."

In addition to the two civilians, Hamas also holds two bodies of IDF soldiers killed during Operation Protective Edge in 2014.