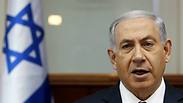 West Bank Regional Council heads publically questioned Benjamin Netanyahu's legitimacy as Prime Minister on Tuesday, over his alleged remarks during a closed meeting that hinted at the possibility of a settlement construction freeze.

"We cannot develop the settlements further, but rather need to preserve what we have," Netanyahu allegedly told the council heads.

The Yesha council (an umbrella organization of West Bank municipal councils) released a furious statement saying, "A government that does not build in Judea and Samaria loses its right to exist. The claim that a settlement freeze will protect the settlements has been proving wrong a long time ago."

The Likud party subsequently denied the comments and said, "The Prime Minister did not say he would stop building in Judea and Samaria.

"In contrast to what was claimed, the prime minister has not disqualified any building in Judea and Samaria, and has said that he is advancing the settlement expansion responsibly and with understanding, in the face of a difficult international reality."

"I was present today at a meeting in which the Prime Minister stated his intention to stop settlement expansion," said the head of the Har Hebron regional council, Yochai Damari. "The ramifications of deciding to freeze settlement planning and building in Samaria will hurt communities that are already facing difficult challenges. Preventing the watering of a plant is similar to uprooting it."

"Building settlements is the only useful way to combat terror not a death penalty, nor arrest raids," said Damari. "I call on the government ministers to challenge this dangerous decision and to act according to the voter's mandate, which clearly supports us."

The meeting focused on several issues, including the matter of the Drinof towers in Beit El, which according to a recent High Court of Justice ruling, where built illegally on private Palestinian land, and as such must be razed by the end of the month.

If Netanyahu did in fact make the attributed statement, there will most likely be a strong reaction from the head of the Bayit Yehudi party, Education Minister Naftali Bennet. Bennet placed a series of related demands on the PM's desk, in the wake of the recent wave of terror.