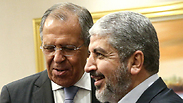 Lavrov and Mashal in Doha
Photo: MCT
Khaled Mashal, the head of Hamas' political bureau, met with Russian Foreign Minister Sergey Lavrov on Monday in Doha, Qatar.

According to an official statement from Hamas, the two discussed the inter-Palestinian reconciliation issue, and the general situation in the Middle East.

Lavrov invited Mashal to visit Moscow, but a date has not been set yet.

According to Hamas, the meeting included a full delegation from the organization, which presented Lavrov with a review of life in the Gaza Strip since the end of Operation Protective Edge, and of what Hamas defines as "Israel's violation of holy sites sacred to Christianity and Islam."

Lavrov expressed Moscow's willingness to play a part in reaching a permanent solution for the Palestinian problem.

"We would like to see the Palestinians — all of them — to have their permanent home," Lavrov said, according to Russian news agency TASS.

"We hope that with assistance from Russia and the whole world this dream will come true," Mashal replied.

Russia has been calling to include Hamas in the diplomatic talks between Israel and the Palestinians since 2010. Moscow has a relatively stable relationship with the Palestinian Authority, and President Mahmoud Abbas visited the Russian capital several times - the last of which was last April, when he met with President Vladimir Putin.