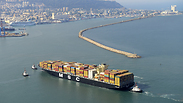 Container ship at Haifa Port
Photo: PR
On October 15th, the largest container ship to ever dock at an Israeli port will enter Haifa Port. The immense Gustav Maersk is 367 meters in length and has a maximum capacity of 10,000 TEU.

The ship is owned by the massive 2M Alliance, which is formed by the world's two biggest shipping companies: the Danish Maersk, and the Swiss MSC.

The color of the ship's containers are becoming more and more familiar at ports worldwide and reflect this alliance as Maersk's containers are gray whereas MSC's are yellow.

The arrival of the Maersk also represents the dawn of a new era, as East Asian imports have become second only to those coming from Western Europe. Israel Shipping and Ports Authority states that once the 2M Alliances's ships start calling at Haifa Port on a weekly basis, imports will total more than 200,000 containers per year.

Haifa Port was chosen as it has proven its meticulousness regarding schedules and has displayed superior operational efficiency. A month ago Haifa Port set an all-time record for productivity during one shift.

Haifa Port CEO Mendi Zaltzman said: "We welcome any opportunity to demonstrate our outstanding capabilities to shipping line decision makers worldwide."

"We are very proud of the fact we have been selected, and we are already preparing to accommodate this line in cooperation with other parties such as the Customs Authority and the cargo division of Israel Railways, so that we can provide the very best services to the shipping containers as well as importers and exporters," added Zaltzman.

The ships of the line calling at Haifa Port start their journey from the port of Busan in South Korea, through Shanghai, Ningbo, Chiwan, Singapore and from there to Port Said and Haifa Port. The line's ships then continue on to several ports in Europe.