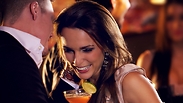 Dating
Photo: Shutterstock
If you're looking for financial success in your potential Israeli partner, it's probably best not to bring it up on the first date according to a new survey by the Israeli dating website Alpha.

According to the survey, "How much do you make?" is the most hated question for Israelis to be asked on a first date.

The questionnaire was based on the answers of 304 male and female participants between the ages of 25-45 and found that it is also better to avoid questions regarding previous relationships including when they ended and how long they lasted.

Inquiries into previous relationships received the most negative reactions from women ages 31 and older.

On a brighter note, your first date with an Israeli doesn't need to be overly extravagant according to the survey. The survey noted that street-side cafes and bars were the most desired spots for a first date while museums, bowling, picnics and an evening at home were ranked the lowest.