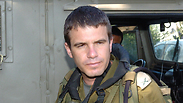 Hirsch during his army service
Photo: Effi Sharir
The appointment of Brig.-Gen.(res.) Gal Hirsch as police commissioner is facing further obstacles amid reports on Friday that there are ongoing criminal investigations against him in Georgia and Kazakhstan, where he was allegedly involved in money laundering as part of arms deals.

Attorney General Yehuda Weinstein is already investigating allegations of money laundering in two security-related business deals that a company Hirsch headed made with both countries in 2008.

A report on Friday night on Channel 10 claimed that one of these countries turned to Israel and requested that it opens an official judicial inquiry against Hirsch. That country reportedly sent Israel a detailed document of suspicions against the nominated police chief, his involvement in these arms deals and the alleged ties he has with former politicians.

According to Channel 10, a special Justice Ministry team will meet to discuss the complaint issued the aforementioned foreign nation, as well as another complaint filed to the police's Lahav 433 Unit (tasked with investigating national crimes and corruption) against Hirsch.

Meanwhile, Channel 2 reported that there has been an ongoing FBI-led investigation against companies Hirsch has been affiliated with since 2013. This investigation reportedly includes other countries, in addition to the US and Israel.

A certain development was said to be made in the investigation two months ago, but no suspects have been questioned as of yet.

After Public Security Minister Gilad Erdan announced that he chose Hirsch to serve as Israel's police commissioner, the attorney general ordered the head of the police investigations unit to stop its probe into Hirsch and transfer all investigation materials to him. However, at present there is reportedly nothing that directly ties Hirsch to the suspicions.

Hirsch's attorney told Channel 2 in response: "This is another imaginary claim in a desperate attempt to slander the appointed commissioner. The company never provided any services in the US. The only thing it did was acquire equipment with permits and the approval of a private company. All of these activities cannot bring or lead to any investigation of the FBI."

If Hirsch's nomination is approved, he will have to go through a painstaking review of his business deals, as well as signing a conflict of interest clause which would completely disengage him and his associates from the aforementioned security dealings and profits.

The attorney general aims to present his opinion to the government prior to a vote on Hirsch's appointment, the bottom line being whether it will be possible to defend Hirsch in the event of a petition to the Supreme Court, or if the appointment raises significant legal difficulties. An official within the Ministry of Public Security estimated that Weinstein ultimately will not invalidate the appointment.

The attorney general's opinion will focus on a number of aspects including whether the nomination process was done according to the rules; whether Hirsch engaged in illegal conduct during his lifetime, in acquiring his wealth, and in his IDF service; and whether he broke the law in his private business dealings.