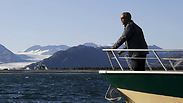 US President Barack Obama in Alaska
According to US President Barack Obama's worldview, the nuclear deal with Iran is just the first stage of the revolution he is leading in American foreign policy.
After ensuring Congress' support for the deal, Obama could just sit back and relax, and hope that the domino effect he wishes for takes place: Western businessmen would invest in and develop Iran's tourist sites; the Iranian people yearning to reconnect with the family of nations would gradually carry out a velvet revolution and remove the ayatollahs regime that has been stifling them for years; Iranian airplanes would fly young Iranians to the United States to study and vice versa; Iran would become a prominent player in thwarting Islamic State in Iraq; and above all, the evil regime of Tehran would not be able to get their hands on nuclear weapons.
Iran Deal
Op-ed: Democrats have turned their back on Jews by committing to a nuclear deal with Iran which puts Jewish state at risk, and voters need to take action.
This is what he promised on the day he took office, and now he is delivering. From his point of view, it is not naiveté, but rather a doctrine designed to suit his foreign policy in a changing world.
Obama fought the battle of his life in recent weeks facing a hostile Congress, and on Wednesday he once again proved that he knows how to win: He has the support of 34 Senators and a blocking majority against his Republican rivals who have left no stone unturned on Capitol Hill in their efforts to establish a coalition against him. It is also a stinging defeat for Prime Minister Netanyahu and the Israeli lobby AIPAC, who took off their gloves and caused mayhem in the political corridors of the US capital, under the president's nose.
The White House still finds it difficult to decipher why Netanyahu did what no foreign leader dared to do before him: Joined up with the president's enemies and worked to humiliate him.
Had the prime minister succeeded in getting Congress to block the agreement with Iran, not only would the president have settled the score with him, but so would the majority of the Democratic Party - which is to say about half of America, including the leading Democratic candidate for president, Hillary Clinton.
Now, Netanyahu is isolated, despised by official Washington, distanced from the diplomatic table and far from the relevant information. He became the man who beat himself, and especially us - the one standing on the wrong side of history.
Netanyahu was defeated because, contrary to what is said in his close circle that he "knows America," he did not understand the new wind blowing from America. After the resounding failure in Iraq and the never-ending war in Afghanistan, the majority of the American public is against further military action away from home. It has expressed its preference for diplomacy for a long time now.
Even though the agreement signed with Iran is not perfect, it blocks the Iranian nuclear program without having even a single plane flying a deadly raid over the Islamic Republic.
Obama chose President Theodore Roosevelt's foreign policy dictum: "Speak softly, and carry a big stick," unlike his predecessor George W. Bush, who first struck with a club and then wondered why there was no one left to talk to. Bush did topple Saddam Hussein, but the brutal and evil emissaries of the Islamic State took his place.
Now that the nuclear deal is on its way for approval in Congress, Obama can show America and the world that there is a new horizon in the international arena. Netanyahu is the only one left still holed up grumpily, instead of joining the new table set up in Washington and make the most of it for Israel, just when Washington wants to give so badly.