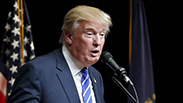 Photo: Reuters
Photo: Reuters
Washington - America's president doesn't need to know the difference between Hamas or Hezbollah, or who's leading the terrorist organizations threatening Israel, according to real estate mogul and Republican presidential candidate Donald Trump - that's for his future advisors to know.

In a Thursday radio interview with Hugh Hewitt, Trump told his audience that upon being deemed "appropriate," he would know more about Hezbollah and Hamas than his interviewer.

Trump's interview

And don't worry. According to Trump, "It won't take me long. I will know far more than you know within 24 hours after I get the job."

Trump accused Hewitt of asking him "gotcha" questions to put him on the spot when referring to Hassan Nasrallah, the leader of Hezbollah, and Abu Bakr al-Baghdadi, the leader of ISIS, among others.

"By the way, the names you just mentioned, they probably won't even be there in six months or a year," claimed Trump. "When you start throwing around names of people and where they live and give me their address, I think it's ridiculous, and I think it's totally worthless."

But beyond slamming Hewitt for his prying questions, Trump offered a solution to his apparent lack of detailed knowledge regarding the Middle East's political players.

"As far as the individual players, of course I don't know them." But, said Trump, leaving the option of soft diplomacy aside, "I will be so good at the military, your head will spin. I think what is really important is to pick out, and this is something I'm so good at, to pick out who is going to be the best person to represent us militarily, because we have some great people militarily. I don't know that we're using them."

Trump also said that he would support Prime Minister Benjamin Netanyahu, even under the circumstances that Israel decided to "invade" Iran. The candidate slammed President Barack Obama's recent nuclear deal signed with Iran, claiming that one clause in particular stipulated that the US would be forced to aid Iran military if Israel invaded.

On this point, Hewitt agreed with Trump, but got a bit more specific. "Yeah, it's Annex Three," he said. "We agree to cooperate in the security of their nuclear installations. It's remarkable and I'm glad you know about it."

Trump continued to say that, "I did commercials" for Netanyahu's reelection campaign. The real estate billionaire said he'd been to Israel once.