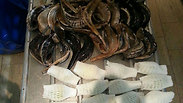 The smuggled goods
Photo: Ben Gurion Airport Customs
Customs officers at Ben Gurion Airport have thwarted an attempt to smuggle dozens of etrogs and shofar into the country.

Customs seized over the weekend 40 etrogs (citrons) and 53 shofars (ram's horns), which managed to go unnoticed all the way from Morocco to Israel.

They were hidden in two different suitcases carried by an Israeli citizen in his 50s from Jerusalem.

When the man landed in Israel, he went through the green lane - meaning he has no goods to declare. But after he was seen struggling to carry the heavy luggage, he was ordered to put his bags through the x ray scanner in the red lane.

The customs officers were shocked by what they saw. "At first we didn't understand what we were seeing - we thought it might be wooden boards," one of the officers said. "When I opened one of the suitcases I saw dozens of shofars, and in the other one there were etrogs covered in a net that's supposed to protect them."

"The man was embarrassed and said he did not know he needed to report these," the customs officer went on to say. "But after we explained the severity of his offense, he admitted to importing Judaica."

Since the man tried to bring the goods into Israel without declaring them, as is required by law, in an attempt to evade paying taxes, the etrogs and shofars were confiscated until the Tax Authority makes a decision on the case. He could face criminal charges, and be made to pay a fine.

A week ago, Ben Gurion Airport customs officers thwarted a smuggling attempt of over 100 etrogs.

The Tax Authority stressed that any passenger entering Israel is allowed to bring with him one etrog only, for personal use, and when he enters the country he must present the etrog to representatives of the Agriculture Ministry's Plant Protection and Inspection Services - or to a customs officer - to ensure it is not infected with pests.

If passengers want to bring in more than one etrog, they will need a special permit from the Agriculture Ministry.