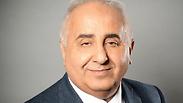 Ramzi Gabai. (Photo: Ronen Akerman)
Since the start of 2015, Israel has seen its trade deficit grow to the amount of NIS 22.6 billion.

The Central Bureau of Statistics (CBoS) reported a protracted downturn for exports in the mixed high-technology (-14.4%), mixed traditional technology (-15.4%), and traditional technology (-4.6%) industries, with a corresponding rise in most import components.

In a special interview conducted with Exports Institute Chairperson Ramzi Gabai in the Ynet studio ahead of Rosh Hashanah, he noted that the slowdown in exports didn't start in 2015.

"You need to remember that between 1980 and 2010 Israeli exports doubled every decade, but they haven't been going forward for the past 5 years," said Gabai. "We aren't rising in exporting even though the country is growing, and this slowdown is happening for a number of reasons, including the status of the Shekel, the industrial development, and other components. All in all, were in a bad period and want to go on a new path."

That's why Manufacturer's Assocaition of Israel President Shraga Brosh, Gabai himself, and Foreign Trade Administration Director Ohad Cohen have recently presented Minister of the Economy Aryeh Deri with an "Israel exports" document, a roadmap for Israeli exporting, featuring suggestions for jumpstarting Israel's exports and markets in general. The document stated a goal of raising exports to about $135 billion by 2020.

"The Economy Ministry understood and accepted the document," said Gabai, noting that the people who wrote the document are the exporters themselves. "In a series of roundtable meetings we had with hundreds or exporters, they were asked what needed to be done, and they're the ones who presented us with all of the problems and the solutions and that's the document's principal interest.

"That's what we came to the Economy Minister with, and there's willingness on his side, on the Prime Minister Netanyahu's side, and Finance Minister Kahlon's side," Gabai said.

He explained that all three understand that without the Israeli exports there won't be any growth. "We're waiting to see how it goes, but I can say that I do see a light at the end of the tunnel. The government is willing to help market the products and open blockages that make industrialists' work difficult," he said.

Gabai clarifies that the export institute's top priority is to help small exporters rather than big ones, since a significant portion of Israeli exports belongs to just ten large companies. "Most of the work done by the export institute is with small-to-medium sized exporters. These are the ones who need and get help. Teva and Intel know the job and can export on their own," he said.

When asked about new markets, Gabai said, "We certainly have a place for new markets that will be here in 10-20 years. There's no doubt that it's the East, China and India, South Korea, Vietnam, and South America. We certainly invest great resources in those markets. Even so, we aren't neglecting what we have today, because without Europe and America it would be very hard to succeed."