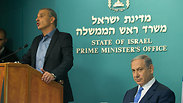 Israel's deficit goal set by the government for the coming year (2% of GDP), cannot be reached due to increased defense spending, according to the findings of an International Monetary Fund (IMF) report released Wednesday.

The report was delivered into the hands of Finance Minister Moshe Kahlon and Governor of the Central Bank of Israel Karnit Flug and recommended that the government effectively cut spending in 2016's budget by at least NIS 5 billion.

Such a cut would reduce the deficit, or the difference between expenditure and income, in 2016's budget by at least 0.5% from the 2.9% that has already been approved.

The recommendation from the IMF contradicts a recent decision from Prime Minister Benjamin Netanyahu and Finance Minister Kahlon to reduce the VAT tax as well as taxes on businesses and the sale of alcohol.

The tax cuts, which were approved based on left-over funds from the 2015 budget, will inevitably reduce next year's tax revenue and therefore increase the 2016's deficit.

The IMF recommendation is reinforced even further by its estimate for growth in the Israeli economy next year at 3.3% - a forecast also predicted by the Treasury.

If the economy does grow in 2016 as planned for in the budget, but the 1% VAT tax cuts and 1.5% reductions for business continue as planned, the government will most likely struggle to meet the deficit goal approved in budget negotiations.

The IMF report also addressed an economic issue felt sharply by most Israelis - the high cost of housing throughout the country. According to the report, supply is the biggest issue in the market that's driving prices skyward.