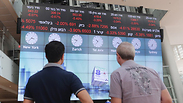 Monitoring stocks at the Tel Aviv Stock Exchange
Photo: Yaron Brener
The Israeli economy grew by a mere 0.1% in the second quarter of 2015, according to figures released Thursday by the Central Bureau of Statistics (CBS).
The bureau's first assessment of the period, published in August, said the quarter had seen growth of 0.3%.
The first half of 2015 saw a rise in the gross domestic product of 2.5%, according to the numbers released Thursday. This was roughly the same rate as in the previous six months and the six months before that.
The prior assessment in August led many economists to predict that the second, more accurate assessment would show stronger growth. But Thursday's assessment disproved this prediction and provided an additional and even more concerning indication that Israel's economy may be slowing down.
A growth rate of 0.1% in Israel is considered negative per capita growth, with two consecutive quarters of negative per capita growth fitting the common definition of an economic recession.
In fact, Israel may already be close to this, as the figures released Thursday by the CBS estimated that growth in the first quarter of 2015 was 1.8%, a nearly nonexistent per capita growth. Population growth in Israel stands at 1.7%, meaning per capita growth should be higher than this percentage.
According to the CBS, the slowdown was chiefly caused by a decrease in exports. The second quarter registered a sharp drop of 12% in exporting of goods and services from Israel, not including diamond exports and goods produced by start-up companies.
There was also a 3.4% drop in fixed investment and a very moderate increase of less than 1% in private and public consumption.
Economy Minister Aryeh Deri recently announced a series of tax breaks in hopes of encouraging economic activity.
The figures published Thursday suggest that the root of the slowdown is not a decrease in private consumption, but rather investment in starting and expanding new business, in addition to struggling export industries. These are struggling possibly because it is difficult for local industry to compete globally, or possibly because a decline in global trade.
Also Thursday, the Finance Ministry updated its forecast for macroeconomic development and tax income. According to this updated prediction, growth in 2015 will stand at 2.6%, whereas the original forecast published by the Finance Ministry's chief economist in July predicted growth of 3.1%.
Omri Milman contributed to this report.