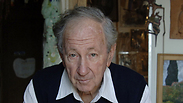 Former Knesset Member and left-leaning activist Meir Pa'il passed away Wednesday morning at Ichelov hospital in Tel Aviv at the ag of 89 of Alzheimer's, leaving behind four children and 11 grandchildren.

"My father was a fighter," his daughter Sigal told Ynet. "He fought until the last moment, until the last breath and he was happy."

Other family members took to social media to announce the death of a father, grandfather and social leader in mourning and in celebration of his life.

"You never let anyone knock you down or depress you," wrote Pa'il's grandaughter Shahar. "I can't believe I'm speaking in the past tense... I miss you and can't believe I won't see you at grandma's for the holidays."

Pa'il join the Palmach in July of 1943 after finishing school and took part in operations to evacuate Jews from Lebanon and Syria. He also took part in the Night of the Bridges, an operation meant to cut off British transportation routes during the War of Independence.

He continued as an officer in the IDF after the formation of the country in 1948. He participated in the Kadesh Operation or the Suez Crisis as a Golani battalion commander and fought in the infamous battle for Rafah junction.

Pa'il continued after the operation to take on important military roles including commander of Officer's Training School. He military career ended in 1971 by which time he had earned the rank of colonel.

In 1973 Pa'il took a new path and founded the Blue-Red Movement, a group of leftist activists who advocated for complete withdrawal from the West Bank and the creation of a Palestinian state next to Jewish homeland.

The movement united with Maki and other left-leaning groups to form the Moked party, receiving just one Knesset seat in the elections of 1973.

Moked soon disbanded, but Pa'il continued in politics to become of the left's most outspoken MKs, calling for a two-state solution through direct negotiations.

"He always used to say that we have the capability to make peace and that we must make peace," said Sigal. "He had many supporters and people were always approaching him to thank him for his actions."