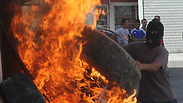 Clashes in Shuafat
Photo: Gil Yohanan
The weekend after Rosh Hashanah was marred by violence in Israel, with riots in the Shuafat refugee camp and in the At-Tur and Issawiya neighborhoods, Molotov cocktails that wounded border police fighters in Jabel Mukaber, Palestinians wounded and arrested, another attack on the Jerusalem light rail, and rocket fire in the south. This is a still incomplete litany of the violent incidents that rocked Israel this weekend (Friday and Saturday).

Tensions continued to boil over on Saturday, following a particularly explosive day on Friday. Shortly after 10:30pm, a Code Red siren was heard in numerous communities adjacent to Gaza, but it soon turned out that while a rocket had been fired, it did not reach Israeli territory.



That same evening at 10:08pm, rocks were thrown at vehicles on the road between Jerusalem and Gush Etzion. No one was hurt.

And at 10:45, a Molotov cocktail was thrown at a guard tower at an IDF base in Binyamin, causing a brush fire. Two firefighting teams were sent to the scene. While these attempted to put out the fire, they were pelted with stone and a firebomb that exploded nearby. Troops responded with riot dispersal methods.

Prime Minister Benjamin Netanyahu announced that he would hold a meeting on Sunday to further discuss the mounting tensions. In the previous government meeting, Attorney General Yehuda Weinstein approved the the use of Ruger rifles by security forces in East Jerusalem, and it has been reported that some have already been wounded by these firearms.

A draft proposal for changing the conditions under which security forces can use live fire in events where people's lives are at risk is expected to be presented for approval at Sunday's meeting. The main scenarios discussed are those in which stones and Molotov cocktails are being thrown.

The distinction between protests and terrorism will remain, and special police units will be operating in Jerusalem for the coming period. The police will be reinforcing its presence in the city's eastern neighborhoods, and a special investigation and intelligence taskforce will be run jointly by police and Shin Bet personnel.

A memorandum about the law allowing fines for the parents of stone-throwers and Molotov cocktail hurlers, as well as the mandatory minimum sentences for these crimes (and the use of firecrackers or flare guns as weapons), has been distributed.

The Prime Minister's Office clarified that Israel is dedicated to preserving the status quo, and it was decided that entrance to the Temple Mount area will be restricted to those above 40 years old on weekends, in order to lower chances of violence.
Timeline of Friday's violence
Friday started out relatively peacefully with Muslim prayers on the Temple Mount but, after their conclusion the signal was given and riots erupted in several spots in Jerusalem and its surrounding area.

At 1:05pm, Palestinians threw stones at police and border police forces at the ancient city's Damascus gate. The forces responded with riot dispersal means and arrested one suspect. Palestinians also reported a wounded protester in A-Tor.

At 2:11pm, Palestinians threw stones toward security forces at the Qalandia checkpoint. Twenty-five minutes later, masked Palestinians threw stones at a combined police & border police force at the Salman Al-Farsi ally in At-Tur. In both incidents police responded with riot dispersal means. Palestinians reported one wounded protester in A-Tor.

At 2:59pm, a paint bottle was thrown at the light rail train in Jerusalem on the Shuafat junction. No one was hurt.

Starting at 4pm, severe riots broke out in the Shuafat refugee camp, with dozens of youths, some wearing improvised masks and some in gas masks, threw stones and Molotov cocktails toward border police fighters in the area. The forces used riot dispersal means and arrested one Palestinian from Hebron.

At 4:21pm, border police arrest a 17-year-old boy throwing stones at police in Wadi Joz. Another youth fled and was apprehended 24 hours later at the same spot. The suspect was taken in for questioning.

At 4:59pm, rioting broke out in Jabel Mukaber, including throwing of stones and firebombs at police and border guards providing security for local residents. Police chased the rioters into Jabel Mukaber, where they encountered a large number of youths burning tires, blocking the junction with dumpsters, and attempting to harm the troops.

A border guard force arriving to stop the violence was the target of Molotov cocktails, which hit inside the police car and wounded three soldiers, one moderately and two lightly. The force shot in the air and towards the attackers and arrested two suspects.

A Palestinian who was shot in the leg was evacuated to Shaare Zedek Medical Center in moderate-to-serious condition. Eight Palestinians suspected of involvement in the rioting were later arrested.

One of the wounded Israelis, Commissioner A., recalled the incident: "There's a chase, we catch someone and I have one in my hand. There were two very big ones who approached us and I gestured at them to go away, I also shouted at them in Arabic to go away, and they approached. And he still got closer. I kicked one of them and they jumped me."

About an hour later, anonymous individuals threw stones and a bottle of paint at a vehicle in Kiryat Arba. No one was hurt, but the vehicle sustained damage.

At 6:25pm, a 17-year-old Palestinian was arrested after throwing Molotov cocktails and rocks, along with a few other teenagers, at security forces and a police vehicle in At-Tur in East Jerusalem. The security guard shot in the air. No one was hurt.

At 8:40pm, a Code Red alert sounded in Sderot and other towns in Sha'ar HaNegev Regional Council. A rocket fired from the Gaza Strip landed near a house in Sderot. The residents were at home and were unhurt, but the house and a nearby bus were damaged. Some residents were treated for anxiety at the scene.

At 10:07pm, rioters in Issawiya and At-Tur clashed with police and border guards, throwing stones, Molotov cocktails, and fireworks. No one was hurt.

Meanwhile, three Palestinians, including a 13-year-old, were lightly-to-moderately wounded during clashes between rioters and security forces in the vicinity of Rachel's Tomb. Rioters threw stones and Molotov cocktails at soldiers and border police, leading security forces to fire in response.

The teenager was evacuated by an MDA team to Hadassah Medical Center, and the other wounded individuals were taken by the Red Crescent to hospitals in Palestinian Authority territories.

At 11:30pm, a Code Red alert was heart in Ashkelon. The Iron Dome system shot down a Grad missile fired at the city.

Shortly after 1:30am, the IDF conducted airstrikes on three targets in the Gaza Strip in response to rockets. IAF planes struck Hamas military posts east of Gaza City and near Jabaliya in the northern strip. A site in the Beit Hanoun area was also attacked. No casualties were reported.