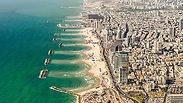 צילום אוויר רצועת החופים של העיר תל אביב
Photo: Israel Bardugo
Tel Aviv has been chosen as one of the top 25 leading financial world centers, according to a study sponsored by the Qatar Financial Centre in Doha.

The distance from the top three - London, New York, and Hong Kong - is still great, however the White City nonetheless precedes tens of other very important financial centers.

According to the study, Tel Aviv is ranked 25th, and advances, among others, Abu Dhabi (28), Beijing (29), São Paulo (31), Stockholm (32), Rio de Janeiro (35), Amsterdam (36), Paris (37), Oslo (67), Moscow (78), and Madrid (79).

The list, which has been published since 2007, is released every six months and ranks the 84 leading financial world centers. The ranking is based on five central competitive categories analyzed by experts from various fields such as banking, investments, security and governance and on an analysis of rankings and financial parameters of various sources.

The flattering ranking joins a list of other commendable accolades and titles given to Tel Aviv. Newsweek called it one of the 21st century's most thriving cities, while accrdoing to the Wall Street Journal, it is the leading technological center of Europe. Foreign Policy named it as one of the 50 global cities, Forbes - one of the world's most burgeoning cities, and others.

Hila Oren, head of Tel Aviv Global City of the Mayor's office, said that this is the latest in a series of achievements.

"Tel Aviv was ranked 32nd in 2013, and since then we have risen to 25th," she said. "The ranking reflects the city's hard work as a world financial center and the hub of Israel's economy."