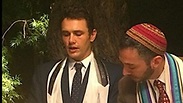 James Franco's bar mitzvah
After a spectacular bar mitzvah party, actor and comedian James Franco finally became a man Friday at the age of 37.

The ceremony took place as part of a charity event to raise awareness for Alzheimer's Disease, organized by comedian and close friend Seth Rogen and his wife Lauren Miller Rogen.

"Since I've known James, he has talked about wanting a bar mitzvah," Rogen said last July. "We are excited to see him finally becoming a man, and at the same time raise awareness about Alzheimer's." We can only wonder if after the tardy bar mitzvah, Franco will finally mature.