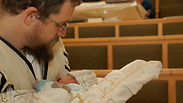 Eitam Henkin at his son's brit milah
Rebbetzin Chana Henkin, the mother of Eitam Henkin – who was murdered with his wife, Naama, in a terrorist attack last Thursday – spoke with Ynet and Yedioth Ahronoth this week about the last family gathering and the moments just after the attack.
On Thursday, the Henkin family got together at Eitam and Naama's sukka in the settlement of Neria. Nothing forebode the terrible tragedy that would take place a couple of hours later, leaving behind a stricken family.
"I remember we ate and laughed," said Henkin. "Eitam and Naama cooked and baked, there were hot dogs and chicken breasts, and for dessert they prepared a cake. That's what every family does during Chol Hamoed" recounted Rebbetzin Henkin. "We really enjoyed ourselves, we said goodbye at around four o'clock. We went to Jerusalem, and Eitam, Naama and the children went to meet friends in Elon Moreh," she said.
"It's is an extraordinary group, which has kept in touch from the age of 15 or 16, although each has gone on his own direction," she said. "They always made sure to meet up once in a while."
But at 9pm, as they were heading back home, their car was struck by fire from a passing vehicle. Eitam and Naama were gunned down, and the four children – Matan, 9, Nitzan, 7, Neta, 4, and Itamar, 9 months old – some of whom witnessed the horror, were not wounded. "These kids were there," said Henkin. "Some were asleep but others remember."
Henkin, founder and head of Nishmat Center for Advanced Torah Study for Women and considered one of the trailblazers of women studying Torah, has difficulty remembering the moment when she received the gut-wrenching news of the attack. "I was in Jerusalem when they called me," she said in a trembling voice.
She immediately went to pick up Hila Armoni, Naama's mother, and took the children to Itamar and from there to her house in Peduel. It was clear that the two grandmothers would hug the children and try to give them the appropriate treatment.
The children's testimony as to the horrifying incident is still disorganized. Channah said that "what they say cannot be understood. The injustice done to these children will only come out in the coming years. This is not living without a father and mother for one day, two days, a week or two. They will not see their parents for their whole lives."
As for children, she added: "We immediately realized that the children need serious and dedicated care. They have become the children of all of us, the children of Israel.
"We have been having family meetings about raising them and are trying to find the best way to watch over them and raise them as Eitam and Naama would have liked," she said. "They are smart kids who understand what is happening around them. However, we are here."
She understands what the future holds for her grandchildren. "Little Itamar will not remember the months in which his parents rocked him to calm him when he cried," she said. "Nata might remember a bit, as well as Nitzan and Matan. But we're here to raise them as closely as possible to how their parents would have raised them. I want to emphasize that we have suffered a huge loss. Israel also lost very significant figures, "said the grandmother. "We are not in favor of personal vengeance, but demand that the government provide security for its citizens."