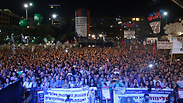 Saturday night's rally. 'One could have expected a different message, a different temperature'
Photo: Motti Kimchi
I assume from the television screens that the rally marking the 20th anniversary of Prime Minister Yitzhak Rabin's murder was emotionally moving. It's not every day that former US President Bill Clinton arrives here, and it's not every day that Rabin Square is filled with tens of thousands of people, mostly youth. Rabin's memory was honored in a dignified evening.

But the feeling at the square was different. People showed up, but there was no energy. We are in the middle of a very difficult time both for Israeli democracy and for the agreement which led to Rabin's murder. These are also difficult times for the state's security, an issue which always topped his list of priorities, and its foreign relations. Given all that, one could have expected a different message, a different temperature. The most blatant protest at the square was staged by those opposing the gas deal, who protested Clinton's lobbying for the Noble Energy company.

Rabin Memorial

Tens of thousands of Israelis participate in ceremony commemorating 20 years since prime minister's assassination in Tel Aviv; from US president charges Israelis with continuing Rabin's legacy.

We don't need Clinton to realize that Rabin wanted a peace agreement that required an evacuation of most of the territories, and perhaps all of them; we don't need Clinton to realize that Israel can't be both an occupying state and a Jewish and democratic state; we don't need Clinton to know that a leader must believe in change, rather than become addicted to paralysis; we don't need Clinton to understand that Israel is a very strong country, militarily and economically, and can therefore afford to give a chance to its neighbors' children too.

Clinton said all these correct things in soft, polite language, as one would expect from a guest. The Israelis who spoke before and after him spoke cautiously. The rally's organizers, members of the adult movement of Hanoar Haoved Vehalomed (Students and Young Workers in Israel), wanted a state rally - in other words, a sterile one, in which every opinion, every person, from Bnei Akiva to Hashomer Hatzair, would be equal. They mostly got what they wanted. They forbade politicians to speak. Even former President Shimon Peres was too political for them (it should be noted that although he was not allowed to speak, Peres came to the rally, sat between President Reuven Rivlin and former Prime Minister Ehud Barak and applauded the speakers).

But they are not the problem. The problem is that this type of rage - the rage over the collapse of democratic values, the nurture of hatred towards the other, the racism, the violence in society - has no voters. The people are turning to the right, and that's perfectly fine, but someone has to warn them that they are being led to the edge of the abyss.

I looked at the Knesset members of the left-wing parties who arrived at the rally and huddled together in the corner allotted to them, at the foot of the stage. Even if they had been allowed to speak, none of them would have received any attention. Not even David Grossman or Amos Oz. Israeli society is currently suffering from an attention-deficit disorder. The paralysis is taking place in what used to be the left as well: It's lying on its back, moving its legs in the air and waiting for the shoe to squash it.

I looked at the youth - the Scouts, Hanoar Haoved, Hashomer Hatzair - who arrived at the square in their uniforms. Good children, who will soon become good soldiers and then good high-tech workers. Will any of them man the barricades when MK Moti Yogev or Minister Yariv Levin storm the High Court with bulldozers? Never.

And that's sad. We have such a talented, vital, creative, ambitious people living here, which succeeds in everything it does - until it comes to politics. There, we are paralyzed. We are wasting ourselves.

But we do know how to put together beautiful, sad rallies. And that's all we've got.