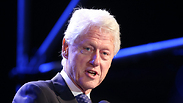 Clinton at Rabin Square, Saturday night. Soft - rather than aggressive - charisma
Photo: Tomeriko
The strongest feeling on Saturday night, when former US President Bill Clinton took the stage at Rabin Square, was of distress. Sadness over the fact that the warm, wise, optimistic, supporting, uniting words had to come from an American president, rather than from the Israeli prime minister.

"Why don't we have such a leader?" is likely the question which crossed the minds of thousands of the rally's participants. Why don't we have anyone in our leadership to soften and calm down the situation? Why does violence here start at the top - from the prime minister and his ministers? And I am referring to the verbal violence, the aggression, the racism. Because there is no other way to define the voices coming from Jerusalem.

Rabin Memorial

Op-ed: While tens of thousands of people showed up to honor Rabin's memory Saturday night, there was no energy at the square. The rage over the collapse of democratic values, over the racism and violence in Israeli society, has no voters.

The antithesis of Clinton's speech was Prime Minister Benjamin Netanyahu's comment last week, when he promised us that we will forever live by the sword. Now imagine Netanyahu making that comment on Saturday night, at the rally marking 20 years since Prime Minister Yitzhak Rabin's murder, in front of the tens of thousands of teenagers who stood there.

Doesn't such a comment wound, despair, authorize violence and erase any option of a normal life? What do young people think when they hear such a remark? How can they continue to nurture their dreams for a life here? And why can't the Israeli prime minister stand on such a stage and offer his citizens comforting, supporting words, and promise something else, rather than a continuation of the current bad situation?

There is no need to say that had someone placed a ballot box at the square on Saturday night, Clinton would have been elected without any competition. Because sometimes that's all it takes: Soft - rather than aggressive - charisma. An ability to identify with the distress of the people in front of you.

Clinton did not sell us lies on Saturday night. He simply spoke a language we all understand. After the hundreds of thousands of words which have been written here about Rabin in the past few weeks, his description of the man was probably the clearest. It was one man's speech about another man he loved. Without bombastic words, without descriptions that people who did not live the reality of those days are unable to relate to.

He simply told them about the greatness of the man for whom they flocked to the square in masses and called on them to return to his way, to fulfill the dream.

Because one could not help but feel on Saturday night that despite the long period of time that has passed, nothing good has happened here.

But not everything appears hopeless. Hearing our president, Reuven Rivlin, and witnessing the long way he has come since the speeches he used to deliver as Knesset speaker, which always ended in tears - his and ours - was heartwarming. It's amazing sometimes to see a person grow into his role. And Rivlin is an excellent example of someone who immediately realized what he must do and saw this demand as a mission.

The mission, according to Rivlin, is to lower the flames of enmity, of hatred, of brutalization and of racism which are destroying every good spot here. And the things he said on Saturday night have no party, no camp and no side.

From this aspect, the choice made by the ceremony's organizers was sensible and accurate: It was a memorial rally in the full sense of the word. A memorial for a prime minister who was murdered over his way, and a memory of peace which was taken away with him.