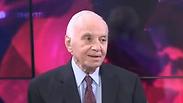 Mort Mandel. (Photo: Nitzan Dror and Yogev Atias)
He grew up in the United States, the son of poor Polish immigrants but in time, he would become one of the richest Jewish people in the world, as well as a renowned philanthropist.
Morton "Mort" Mandel recently came to Ynetnews' studio where he spoke about the importance of promoting leadership, the meaning of success, and how he manages to maintain a healthy lifestyle at age 94.