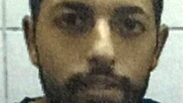 Seven residents of Jaljulia, an Israeli Arab town near Kfar Saba, were arrested for planning to join and fight for the Islamic State in Syria, the Shin Bet revealed Wednesday morning.

The intentions of the seven were uncovered in an investigation that began after 23-year-old Nadaal Salah crossed the border into Syria by paraglider on October 24.

Salah was also a resident of Jaljulia and on the same night of his flight, Shin Bet and police operatives arrested two of his brothers for aiding him in his successful attempt to reach Syria.

The 26 and 22-year-old brothers were known to Israeli authorities as ISIS supporters and one of them had even spent six months in Syria in 2013 fighting for the extremist organization. He was arrested upon his return and spent approximately a year in prison until his release in November, 2014.

Four others were also revealed as playing a role in Salah's glide and all together formed a group that held religious lessons together and discussed how they could contribute to ISIS.

In addition to Salah's glide to join ISIS, some of the others intended to fly (on a plane) to Turkey and from there to enter Syria and fight on behalf of the Islamic State.