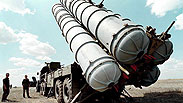 The S-300 (Photo: EPA)
Photo: EPA
Russia's President Vladimir Putin approved a plan on Monday to begin the transfer of the advanced S300 anti-aircraft system to Iran as he attended talks with leaders in Tehran.

Several Iranian media outlets quoted the Iranian ambassador to Moscow as saying that the transfer of the weapons system had begun.

The talks were expected to focus on the Syrian crisis and an international peace plan to end the conflict.

Moscow and Tehran concluded negotiations on the delivery of the Russia's long-range S-300 surface-to-air missile system to Iran in May, but a delivery date was never stated publicly.

The sale of the system was banned in 2010 by then-Russian president Dmitry Medvedev, but was again authorized in April of this year by Vladimir Putin.

Putin's visit comes as Russia, the United States, France and others have been talking about possible joint action against the Islamic State group following the terror attacks in Paris and the downing of a Russian passenger jet in Egypt. Putin's trip also comes on the heels of agreement on an incomplete peace plan for Syria calling for talks between Syrian President Bashar Assad and his foes.

Moscow and Tehran have been the key backers of Assad throughout his nation's civil war, which has killed over 250,000 people and turned millions into refugees.

Russia has shielded Syria from international sanctions, and on September 30 it launched an air campaign against the Islamic State group and other insurgents, while Tehran has sent military advisers to shore up Assad.

Russia and Iran both have bristled at demands for Assad to step down, saying his future must be decided by the Syrians as part of the peace process. But some have speculated that Moscow could be prepared to see Assad phased out of power as part of a deal that would guarantee stability in Syria and protect Russia's interests there. Tehran is widely seen as taking a more rigid stance.

Shi'ite Iran has staunchly backed Assad, who belongs to Syria's Alawite minority, an offshoot of Shi'ite Islam, seeing him as a bulwark against its archrival, Saudi Arabia, and other Sunni monarchies of the Gulf. Tehran has sent more advisers to Syria in recent weeks, reportedly including Gen. Qassem Soleimani, who heads the elite Quds Force of the Revolutionary Guard. Iran says it has sent advisers but no combat forces.