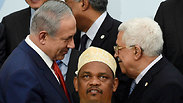 Prime Minister Netanyahu and PA President Abbas shake hands
Palestinian President Mahmoud Abbas blamed Israel for all the ecological problems in the Palestinian territories on Monday at the COP21 summit in Paris, mere hours after shaking hands with Prime Minister Benjamin Netanyahu.
Speaking to world leaders at the United Nations summit, Abbas said that the Palestinian's "resources are being usurped, our trees are being uprooted, our agriculture is being destroyed."
Abbas told world leaders that the Palestinian Authority had made "great progress" in adopting climate change laws, but claimed that the "continued Israeli occupation and violation of international laws related to the environment" was challenging their implementation.
At the same time Abbas claimed that the PA was still interested in peace with Israel. "Our hand is still extended in peace to our neighbors," he said. "In the meantime, we will continue to build our state based on modern and democratic principles."
This verbal attack came just hours after Abbas and Prime Minister Netanyahu shook hands on the sidelines of the summit in their first meeting since 2010. The meeting between the two leaders was very brief and they did not hold any form of official talks.
Later, Netanyahu said that the handshake with Abbas was "protocol. Its important that world sees we are willing to talk. I have no illusions about Abbas."
The heads of more than 150 nations kicked off 12 days of talks in search of an elusive pact that would indirectly restructure the world economy, weaning it off fossil fuels that stoke global warming.