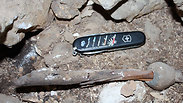 Early evidence of lead use
The oldest evidence of the use of lead in the Levant was recently discovered in a 6,000-year-old tomb, inside an underground cave in Israel's northern Negev region. The object, shaped like a scepter or sword, seems to indicate that the use of lead began in the late Chalcolithic period, and seems to have come to the area from ancient Anatolia.

"Up until this discovery it was assumed that the use of lead started during Roman times, about 1,000 years after that," explains Dr. Naama Yahalom-Mack, who lead the research for the Hebrew University of Jerusalem's Institute of Archaeology.

The object is wooden, with a lead top. It was discovered inside the Ashalim cave, known to archaeologists since the 1970s. It was recently the target of climate research that attempted to assess the changes to the area's climate by looking at the cave's stalactites. During its remapping, new spaces were discovered in the cave.

Mika Ulman and Dr. Uri Davidovich, who participated in the research, discovered human skeletons in the cave's northern side that were thousands of years old. Around them were broken vases, apparently tributes for the dead, and a strange object – a wooden stick with metal on top, partially cone-shaped. A carbon 14 test done on the wood shows that it has survived since the late fifth millennium BCE, and the skeletons seem to have been placed in the tomb in approximately 4,200 BCE.

"Lead is not a metal that we know from this period," explained Dr. Yahalom-Mack. "We started finding lead in parallel with the beginning of objects manufactured from silver in the fourth millennium BCE, since lead is a byproduct of the process in which you separate the lead and silver." In those days, lead was only used for making small items and for weighing purposes, as its color is not particularly appealing and the material is very soft.

"You start finding lead as a waste product of silver manufacturing in the fourth millennium BCE," said Dr. Yahalom-Mack. "The assumption is that they knew how to produce silver back then so they certainly knew how to produce lead. When we discovered the lead-made item from the fifth millennium (BCE), we asked ourselves if locals used lead earlier and if it might not have anything to do with the silver process."