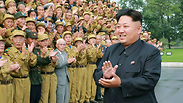 North Korean leader Kim Jong-un. (Photo: Reuters)
Israel has been officially rebuked by the UN after trading with North Korea in defiance of UN sanctions imposed in 2006. The sanctions banned the export of luxury goods to the isolated dictatorial state. However, it turns out that in recent years Israel has been trading different products with North Korea – including gold in sums that reach about $400,000.
It turns out that Israel never actually confirmed the UN order which would allow supervision of exports to North Korea, giving authorities a sort of loophole which could be used to make the banned trades.
On Wednesday morning, almost a decade after the UN decision was passed, the Knesset Economic Affairs Committee, headed by MK Eitan Cabel, finally approved the order. The committee exposed Israel's exports of gold to North Korea in recent years. David Khouri, head of exportation affairs at the Israel Tax Authority, even mentioned that there were other products, but did not elaborate.
"Unfortunately, there have been exports of gold and sadly they were exposed and we had to give explanations," Khouri said in the meeting. He even told the committee that he halted other attempts at gold exports because they were shaming Israel. "There has been almost no exporting of gold to North Korea sonce 2011, and our exports only included books and dental implants," he said.