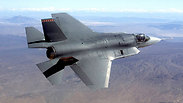 Washington - US President Barack Obama on Friday signed a $1.8 trillion budget, including $3.1 billion in aid to Israel, to be in effect until October 2016.
The bill was signed after a compromise was reached between Congress Republicans and Democrats that prevented a government shutdown. The $3.1 billion in aid includes $487 million for protecting Israel's skies with the Iron Dome system for short-range missiles, the David's Sling system for longer-range missiles, and the Arrow 2 and 3 anti-ballistic missiles.
The budget also contains $200 million to fill weapons arsenals in Israel for emergency use by the US military. These arsenals were built in 1990 as per legislation passed by Congress and used during Operation Protective Edge in 2014 in order for the IDF to replenish its weapons' stock.
Similar arsenals have been placed by the Americans in South Korea. In addition, the budget includes a new section for US aid to Israel for the tunnel identification project which both countries are interested in. The section is still in the preliminary stages of research and involves relatively small amounts of money.
The $3.1 billion American aid package is provided within the framework of the memorandum signed by former president George W. Bush in August 2007. The memorandum stated that Israel would receive $30 billion in ten years, and Obama is working on signing a new memorandum which will go into effect only in 2017.
Talks between the US and Israel concerning Israel's security needs are still underway in light of the nuclear agreement signed between Iran and the West. The Americans have not yet quoted a final price, but it is clear that the amount of aid will be greater and will reflect the increasing threats to Israel. Last month Israel requested the US to increase the amount of annual aid to $5 billion, a proposal which was leaked to Reuters by an American official.
As was recently reported by Ynet, Israel recently submitted a list of requests for special military needs for the next 20 years. Among these requests are squadrons of F-15 stealth fighter jets, in addition to the F-35 squadrons the Americans have already promised. The Israeli list also includes the V-22 Osprey aircraft-helicopter, helicopters, refueling aircraft, precision weapons and a large amount of Arrow 3 missiles designed to intercept ballistic missiles outside the atmosphere as an additional layer of protection to the Arrow 2.