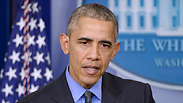 Many Israelis believe that once Obama ends his term, everything will go back to normal
Photo: MCT
Many Israelis tend to see the source of all our troubles, the root of all evil, in Barack Hussein Obama. They tend to stress his middle name, Hussein, so that whoever has yet to understand will finally understand where the American president draws his outlook from. His middle name is enough to free the demons from their crypts.

The prevailing assumption among a large public here in the past seven years is that if it were not for this man, the Israel-US relations would be maintained peacefully. How wonderful. The following assumption is almost obvious: If we can only get rid of this Israel hater, everything will be all right. The leopard will lie down with the goat and Washington will go on a pilgrimage to Jerusalem, if only the Likud government agrees.

Special Interview

The veteran diplomat, who has spent more hours with American and Israeli leaders than any other person, talks to Ynet about his new book, which offers an intimate look at US-Israel ties in the past few decades. While Obama and Netanyahu don't trust each other, he says, the unique relationship between the two countries is 'doomed to succeed.'

And the following assumption is: Obama will soon retire, and everything will go back to normal. Israel will enjoy better days. This means we must hold on only 13 more months. In the meantime, Prime Minister Benjamin Netanyahu will keep hesitating, won't do a thing, will talk and talk and talk and appear on Charlie Rose's television show (which no Israeli leader skips an interview on when visiting America) again and again - and oops, 13 months will go by and we will be saved. The Lord preserveth the simple.

This is the state of mind today among many government ministers and among even more Israelis. In any event, in the last year anyone sitting in the White House dreams about the fat contract he is expected to sign with his book agent on the following January 20. In a little over a year, Obama won't be dealing with us anymore, thank God. After all, doesn't he have anything better to do?

With all due respect, such a mindset is dangerous nonsense. All US presidents, and likely all the future ones too, have supported and will support the policies outlined immediately after the Six-Day War. Almost 49 years have passed since then, and not a single American president has dared to turn the tables.

We have had Johnson and Nixon, Ford and Carter, Reagan and Bush Sr., Clinton and Bush Jr., and now Obama. Administrations have changed. The Republicans have been in power, the Democrats have been in power. There have been presidents who smiled at us more and presidents who smiled at us less.

There have been presidents who seemed like relatives of Theodor Herzl (Clinton, for example) and there have been presidents infected with a certain amount of anti-Semitism; there have been presidents who saw the Jewish vote as the most important thing, and there have been those who invited the American Jewry's arrogant leaders to kiss a certain part of their body.

Very important American government workers have come and gone too. Can anyone remember William Rogers? Joseph Sisco? Richard Murphy? Where are Cyrus Vance and Warren Christopher today?

We defeated the Romans and the Greek, we survived the Holocaust, we defeated seven Arab armies, we reached Jordan and the Golan Heights and we touched the Suez Canal. We. We. We. But the American policy has remained the same the entire time: The 1967 border lines and no recognition of Jerusalem as Israel's capital. Occasionally, they offered goodwill gestures, such as a faint recognition of the settlement blocs in Judea and Samaria, but after we enjoyed this special gesture, the Washington villains returned to their evil ways. The 1967 borders again, and Jerusalem is again not the Israeli capital.

To many people's dismay, the same will happen with the next US president, and with the following one and the following one. America, it seems, has a lot of patience. It's only 239 years old. We are thousands of years old. We have time. So does America.