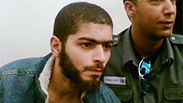 Archive photo of the suspect in the Tel Aviv shooting, during a previous arrest
As the manhunt continued on Saturday for Nashat Melhem, the suspect in Friday's shooting attack in Tel Aviv that killed two, further details about his past began to emerge that painted a picture of a history of violence.
The suspect, a 31-year-old resident of Ara'ra in the north of Israel, was identified by his father after he recognized his son in CCTV footage of the shooting that was broadcast on Tel Aviv. The father called the police to confirm his identity.
The alleged shooter is a former prisoner who received a five-year jail sentence after attempting to seize a weapon from a soldier. Although his indictment noted that he wanted to hurt a soldier "because he is a representative of the state," he was not charged with a security-related offense but rather with aggravated assault and attempted theft. He said the crime was motivated by rage over the killing of his cousin by a policeman who arrived to search his home.
It was revealed on Saturday that police had arrested the suspect's brother, Jodat, and that a court had extended his remand by five days. He is suspected of being an accessory to murder and premeditated killing.
The 2007 ruling found that Melhem had physically attacked the soldier and tried to grab his M-16 rifle before the soldier overpowered him. He was arrested the next day and attempted to take a police officer's weapon during questioning. He again attacked a policeman when being escorted to reenact the crime.
Melhem's attorney argued that the accused was acting out of serious mental disturbances. Judge Keinan wrote that "while it was not proven that the accused suffers from a mental illness that excludes criminal responsibility, the same documentation shows that this is a 'guy with a personality disorder, and based on psychological testing he has a full-fledged personality disorder, including drug and alcohol use from a young age and criminal behavior involving drugs, which led him to serve jail time a year ago."
CCTV footage of the moment the shooter opened fire at the Simta bar in Tel Aviv
The judge said that prior to the plea bargain the defense submitted three additional medical documents that corroborated this analysis.
The judge ruled that Melhem was not motivated by nationalism but by "a mental disorder that was aggravated by drug use." She noted that the defendant confessed to the act, expressed remorse and "willingness to accept a heavy penalty and any treatment ordered during his confinement."
She concluded that the plea bargain should be accepted and sentenced him to five years in prison, adding that the prison services should monitor the prisoner and enable psychiatric care "as well as drug rehabilitation, if such is required."
The 2007 arrest was not the suspect's first run-in with the law. He was also arrested in 2005 after selling a police agent around 1.1 kilograms of hashish in exchange for NIS 16,500.