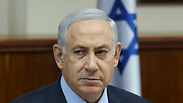 Netanyahu. The invitation was arranged without his knowledge
Photo: Amit Shabi
Israel's ruling Likud party at the beginning of January invited David Lasar, a senior member of Austria's far-right Freedom party, on an official Knesset visit, Channel 1's Mabat news program revealed on Sunday.

The Freedom party was previously under the leadership of Jörg Haider, a known anti-Semite, and Lasar himself is on a Ministry of Foreign Affairs blacklist.

A Likud statement responding to the affair said that the invitation to Lasar was not coordinated with Prime Minister Benjamin Netanyahu, who also acts as foreign minister, and was carried out without his knowledge.

According to the Mabat report, this is the first time that a senior member of the right-wing Austrian party is arriving in Israel on an official invitation from an Israeli party. Lasar, who is a close associate of Freedom party chair Heinz-Christian Strache, has previously been to Israel, but only for personal visits.

Lasar has previously secretly met with former Foreign Ministry director Nissim Ben-Sheetrit, with the aim of cultivating official ties between the State of Israel and the Freedom party. Lasar himself noted in a response to the matter that "Haider is gone, we are setting out on a new path."

Hazan, who signed the letter, is a senior figure in the Likud and is thought to have close ties to Transport Minister Yisrael Katz.