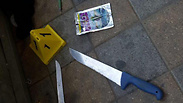 Knife used by one of the girls
Two Israeli Arab teenage girls stabbed a 27-year-old security guard at the entrance to the mall near the Ramla central bus terminal on Thursday morning. They were apprehended and taken for questioning at the Ramla Police station.
The two eighth graders, 13-year-old cousins from Jawarish, arrived at the central bus terminal, with one of them carrying a school bags. When the security guy asked them for identification, they pulled out kitchen knives from the bag and attacked him, lightly wounding him in his hand and leg.
The guard called for help and other security guards came to his aid and helped subdue the attackers.
The security guard was taken to the Assaf HaRofeh Medical Center.
"Indications are that the motive was nationalistic," police spokeswoman Luba Samri said.
The teenage girls arrested
While police forces handcuffed one of the attackers, they did not stop a young man who came near her and spat in her face. The man then left the scene, unhindered by the policemen.
One of the attackers was also pinned to the ground, with one of the civilians at the scene holding her head down with his leg.
Ido, an eye witness who said he helped neutralize the attackers, recounted what had happened, "The security guy came inside stabbed, and yelled he was stabbed. I ran outside and kicked hard in order to neutralize, and they were pinned to the ground. In moments like that I think they should've been killed."
A source in Jawarish said the two girls did not show up for school on Thursday because one of them was going to the clinic to undergo a series of medical tests ahead of a planned operation. The mother of one of the girls told the school they were supposed to go to school after the tests.
"We think there might have been a mistake, it could be that the reason behind the attack was an argument between the two sides," the source said.
"We know them and they behave normally. There was no suspicion that they planned to hurt others," he added.
"We still don't know what caused the girls to stab the security guard. We're all in shock and have a hard time figuring out the truth," said a relative. "The two girls are kind and nice and would never be willing to commit a terror attack like they say. I demand the Israel Police and the government to be patient, and not rush to conclusions and saying it was nationalistically motivated."
Ramla Mayor Yoel Lavi said police was investigating the attack that "is uncharacteristic of the Arab sector in Ramla. Ramla is a multi-cultural city, in which people live in coexistence and in good neighborly relations, Jews alongside Arabs."
Hassan Shaalan contributed to this report.