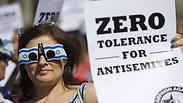 Protest against anti-Semitism in London
Photo: AFP
LONDON - The number of anti-Semitic incidents reported in Britain dropped by a fifth last year, although the figure was still the third-highest on record, a Jewish advisory body said on Thursday.

The Community Security Trust, which advises Britain's estimated 260,000 Jews on security matters, said 924 incidents were recorded during 2015, including 86 violent assaults.

The overall figure was a 22 percent reduction from the 1,168 anti-Semitic incidents in 2014, a record level which the CST had attributed to Operation Protective Edge in Gaza in the summer of that year.

The number was still "unacceptably high", said David Delew, chief executive of the group. "The Jewish community has a right to expect anti-Semitism to be opposed wherever it occurs," he said in a statement. "It should have no place in our society."

A second report by the Campaign Against Antisemitism, which obtained statistics from every police force in Britain, said anti-Semitic crime had surged by almost 18 percent in 2015, with an increase in the number of violent crimes. But the number of crimes that had led to charges dropped by almost a quarter.

Jews across Europe have warned of a rising tide of anti-Semitism, fuelled by anger at Israeli policy in the Middle East, while far-right movements have gained popularity because of tensions over immigration.

Fears were exacerbated by last year's attack on a Jewish supermarket in Paris by an Islamist gunman, which killed four people and a deadly shooting at a synagogue in Copenhagen.

According to a survey last January, a quarter of Jews have considered leaving Britain in the last two years and more than half feel they have no long-term future in Europe.

In its report, the trust said most of the British incidents involved random verbal abuse. Three-quarters occurred in or around London or in Manchester in northwest England, home to Britain's largest Jewish communities.

The group, which began recording anti-Semitic occurrences in 1984, said it suspected many incidents were still not reported to the organization or the police.

"While a fall in anti-Semitic incidents should be welcomed, there are still too many cases of this type of hate crime," Home Secretary Theresa May said.

"We also know that these types of crimes are often under-reported. We must give victims the confidence to coming forward to report these terrible acts."