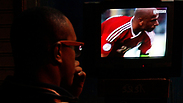 A new step for Palestinian TV.
Archive Photo: Reuters
A new Palestinian satellite sports channel is to carry out a pilot transmission on Wednesday, with plans to start regular broadcasts in the summer, one of its founders said Saturday.
Wael Romana, director of the Palestinian Sport Channel, said it would cover Wednesday's friendly between the Palestinian and Algerian Olympic soccer teams in Algeria.
"Then the channel's official launch will be in four or five months," he said, adding he has already hired about 40 staff and hopes to expand.
"The goal is to have coverage of Palestinian sport in all disciplines," he said. Palestine was recognized by FIFA in 1998.
Palestinian Football Association (PFA) President Jibril Rajoub, a constant critic of Israeli restrictions on the movement of Palestinian athletes, welcomed the initiative as a "historic turning point" in the history of Palestinian sport.
A Communications Ministry spokesperson said the Palestinian Authority had bought 18 broadcast frequencies on the Egypt-owned Nilesat satellite and Saudi-based Arabsat which it could license to any broadcaster it selected.
Eighteen local television channels operate in the West Bank and Gaza Strip alongside nearly 90 radio stations.
The Palestine Olympic Committee says it hopes to send between eight and 10 athletes, mainly in martial arts, to the Rio Olympics in August.
Competing in high-profile international events is seen by Palestinians not only as of sporting importance but also as a political statement in their bid for statehood.