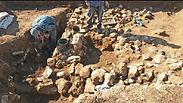 Ancient settlement found in North Jerusalem neighborhood of Shuafat
Archaeologists have found evidence of human settlement in northern Jerusalem from the fifth millennium BCE.

Israel Antiquities Authority archaeologists conducting a dig in the neighborhood of Shuafat before a road could be constructed there found buildings, pottery, flint tools, and a basalt bowl.

"We also recovered a few bones of sheep, goat, and possibly cattle," said IAA Excavations Director Ronit Lupo, adding "these will be analyzed further in the Israel Antiquities Authority laboratories, permitting us to recreate the dietary habits of the people who lived here 7,000 years ago and enhancing our understanding of the settlement's economy."

The settlement is from the Chalcolithic period, which is characterized by man's first use of copper tools. "Remains from the Chalcolithic period have been found in the Negev, the coastal plain, the Galilee, and the Golan, but they have been almost completely absent in the Judean Hills and in Jerusalem," explained IAA Prehistory Branch Chairman Dr. Omri Barzilai.

"Although we have discovered a few traces of Chalcolithic settlements in recent years, such as those at Abu Gosh, the Motza Junction, and the Holyland compound in Jerusalem, they have been extremely sparse. We have now discovered significant remains from 7,000 years ago for the first time."


"Besides for the pottery, the fascinating finds attest to the livelihood of the local population in prehistoric times—small sickle blades for harvesting cereal crops, chisels and polished axes for building, borers, awls, and even a bead made of carnelian (a gemstone), indicating that jewelry was either made or imported," said Lupo.

"The grinding tools, mortars, and pestles, like the basalt bowl, attest to technological skills and to the kinds of crafts practiced in the local community."

The dig was organized and funded by the Moriah Jerusalem Development Corporation.