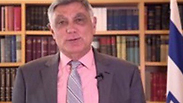 Israeli ambassador to Egypt Haim Koren
Israeli ambassador to Egypt Haim Koren expressed regret on Thursday about the decision to oust Egyptian MP Tawfik Okasha from parliament because of their meeting.
"This step is contrary to the relations between the two countries, but this is an internal Egyptian issue which is not tied to Israel," Koren said in an interview with BBC Arabic.
Koren told his interviewer that when the Egyptian ambassador to Israel presented his credentials to Israeli President Reuven Rivlin, the Israelis warmly received him.
Okasha was ousted from the Egyptian Parliament for five years 467 out of 595 MPs on Thursday supported the decision to remove him from office. Okasha was called the "normalization legislator" and was pelted with shoe by a fellow parliamentarian last Sunday.
Koren said that the Israeli embassy in Cairo was happy to meet with anyone who was interested. "My presence is accepted everywhere in Egypt. We have good relations with Egypt. I meet daily with Egyptian officials and members of the government," said the ambassador. "There is a need to include content related to peace between the two countries in Egypt's education system. I talk with many Egyptians who turn to me. We respect everyone's wishes, even if they wish the meeting be kept secret and not be publicized."
The interviewer asked if the two countries share intelligence information, and Koren replied: "We work with Egyptian authorities on a daily basis and share our opinions and our knowledge with them. We have understandings regarding the situation in Sinai. Due to current situation in the region, it's natural that we cooperate in various fields. Egypt's biggest enemy today is terrorism - Hamas in Gaza and the Islamic State in the Sinai. There is no chance that we will act against Egypt. It is in Israel's interest that Egypt develops and succeeds."
The ambassador added: "I think the leadership in Egypt believes that Egypt should cooperate with Israel against terrorism so that the situation doesn't deteriorate as it has in Yemen and Iraq. It is no secret that we were enemies in the past, but from our perspective, Egypt will never again become an enemy. I think President al-Sisi is leading Egypt in the right direction."
Koren was asked if Israel was involved in talks between Egypt, Ethiopia and Sudan on the construction of the the Grand Ethiopian Renaissance Dam, which will block the flow of the Nile River to Egypt. He noted that it is known that the Nile River is very important for Egypt, but Israel has no need for the river's water and therefore has no interests regarding the project. He vehemently denied that Israel is involved in this matter, whether it be technical or financial support.