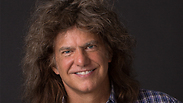 Pat Metheny is coming to Israel soon (Photo: John Peden)
The successful jazz guitarist Pat Metheny will be coming to Israel for two concerts this summer at Zappa Herzliya on June 14 and at Live Park in Rishon Lezion on June 15.

The ticket prices for Metheny's concerts will start from NIS 349.
Metheny, whose last visit in Israel was in 2011, is considered one of the world's important jazz musicians. He won no less than 20 Grammys and is the newest member of the Jazz Hall of Fame.
He began his musical career as a trumpet player at age 8 and at 12 he started playing the guitar. By the age of 15, he had worked with the best musicians in Kansas and in 1974 he burst into global fame.
His albums sold over 20 million copies worldwide and he collaborated with David Bowie, Joni Mitchell, Herbie Hancock, Chick Corea, Achinoam Nini and others. Metheny's style combines elements of progressive and modern jazz, with Latin influences, post-bop and fusion.
As part of his new tour, "An Evening with Pat Metheny", he will appear alongside drummer Antonio Sanchez who has been accompanying him since the early 2000s. Sanchez had great success as a composer last year when he worked on the soundtrack for the Oscar-winning movie "Birdman". Malaysian-born bassist and pianist Linda Oh and British pianist Gwilym Simcock will also join Metheny on stage.
The warm up artist will be the Israeli musician Adam Ben Ezra.