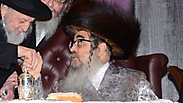 Satmar Rebbe knows who is to blame for everything
As terror attacks continue to strike Israel, Rabbi Aaron Teitelbaum said on Tuesday that "the real culprits are the settlers in Israel who agitate the nations of the world in the country and throughout the world, which causes serious hatred of Israel and the severe wave of attacks."

Rabbi Teitelbaum, also known as the Satmar Rebbe, and his brother lead the world's largest Hasidic movement, landed in Israel on Tuesday and spoke sharply to his followers, at his grandson's bar mitzvah in Jerusalem. The city had which suffered a serious attack shortly before that, alongside two other attacks that night. "In recent months, the blood of Israel is spilling like water," he said. "We cry every day for those dead and wounded. "




The rabbi also addressed the growing numbers of ultra-Orthodox recruits in the IDF. "It is true that there is no coercion," he said, "but via soft words there is an increase in recruits to the IDF, which is a source of evil , and especially when the young men are not as strong spirituality. What is new is that no one here screams out loud that there is a prohibition to enlist in the IDF, which is is a place of destruction."

The anti-Zionist rabbi attacked in his speech all the ultra-Orthodox political parties that participate in state institutions, are partners in the government, and enjoy its budgets. "You are always hearing about what's happening here in Israel, and especially the conscription law, there there are agreements with the government," he said. "We will stand firm so that the yeshivas will not be destroyed. "

"The agreements – there are some who say they are good, some say they are bad, and they need a lawyer to teach them, but the reality is that since that law there has been a rise in ultra-Orthodox recruits. One should know that the main sin in enlistment is

those who go there will not return (i.e. will become alienated from religion - KN)."