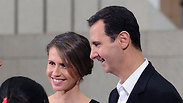 US Secretary of State John Kerry informed several Arab countries that the US and Russia have reached an understanding that Syrian President Bashar Assad will leave to another country as part of the future peace process aiming to put an end to the bloody civil war, reported the London-based Al-Hayat Thursday.
According to the report, based on a Security Council diplomat, a timetable was not set for Assad's departure. The understanding between the United States and Russia came about in behind-the-scenes diplomatic channels involving military operations against Islamic State and it includes the departure of Assad to another country at some point. However it was stressed that "the timing of the move and its context in the political process is still not clear to everyone so far."
It should be noted that recently there have been several contradictory reports on alleged agreements between the US and Russia regarding the fate of Assad. Al-Hayat represents the Saudi hawkish line of coverage of the Syrian crisis and therefore it is quite possible that this is a leak emanating from one of the Gulf countries aimed at exerting pressure.
After Russian President Vladimir Putin announcement of the withdrawal of his forces from Syria, speculations arose that Putin meant to signal to Assad that if the latter sabotaged a political solution, he may risk a halt of Russian military support, but after a while it became clear that despite the removal of air power, the Russians continue to provide a substantial amount of military equipment Assad's army.